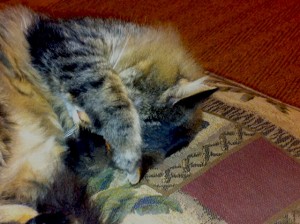 My husband never owned a pet when he was growing up, so when he married into our family with cat and dog, it was an adjustment. After we became empty nesters and the pets had gone to live with Grandmother, I promised him no more animals in the house. Our frequent travel also impacts having pets at home. When our very good friend was stricken with cancer and went to Orlando for special treatment, we knew she would be absent for an extended period. My husband agreed to bring Gracie, her cat, to our house and he was a good sport about it. While there were some obvious changes to deal with, it wasn't overly dramatic. Our neighbor returned and Gracie went home.
Sadly, another round of treatment was later required and we did the "Gracie move" again. This time, however, when the neighbor returned it was under hospice care and she lost her struggle with cancer a few weeks ago. None of her adult children were in a position to take Gracie, the other neighbors already have cats, and no one we knew could help out. One of the neighbors did put us in touch with a woman who posted Gracie's photo and situation, but she also alerted us that adult cats were not always easy to place.
However, an aunt of one of the women who works with the animal rescue group learned about Gracie, saw her photo, and said she was interested. Great, except that the woman lived near Gainesville, a six hour drive north. Ah, but we (okay, I) had a solution. Our trip to New Orleans would take us past Gainesville, so we would leave a day early. The next critical step though was that while Gracie has some amusing traits, traveling well is not among them, and in fact, getting her into a carrier is a process that I had never mastered. It was so difficult that the last two times we did the "Gracie move" I simply bundled her in a towel and held her close to me for the short walk between our houses. A two minute transfer was about her limit.
We were planning to leave earlier in the morning that would be convenient for the other neighbor whom had helped me before, but he gave me the name of Gracie's vet. She copied Gracie's thin file and gave us a sedative to try. Gracie is also not the type to allow you to poke a pill down her. I was advised about "Pill Pockets" that did prove to be a solution. Not as easy as we had hoped, but it did work when we tried one dose before the trip just to make sure she didn't have an adverse reaction.
The cat carriers the neighbor had were the right size for a quick trip to the vet, but with a longer trip, I thougt more space might be in order and picked up a larger "Pet Taxi", and a nice little rug to go inside. We managed to get Gracie into the carrier and I thought she perhaps appreciated my efforts until she upset the small water and food dish in her attempt to claw out the bottom. Her persistent mewing was less than a yowl though and she actually finally settled down for the last two hours of the drive.
When I was emailing with Gracie's new "Mom", she had warned me not to use Mapquest and sent directions that seemed clear enough despite multiple turnings as paved roads became dirt. The "near Gainesville" part was correct if you consider 30-plus miles as near. The real problem was a front-end piece of getting through Gainesville that I hadn't properly checked, but the Iphone came through for us and after one more wrong turn on my part, we went off on a county road that was definitely curvy. We arrived to a modest ranch home in a lovely setting, one cat with similar coloring to Gracie sunning in part of the yard. The new "mom" was waiting at the gate for us and led us onto a screened-in porch filled with plants in containers. Unlike other times that Gracie had bolted from the carrier, she stuck her head out cautiously to sniff the new surroundings. The new mom brought out a bowl of water and began to explain to Gracie about the two older dogs in residence as well as the two other cats. While Gracie did not immediately go into her arms, she was calmly curious. We said our good-byes noting the many types of spots around the property that Gracie would enjoy. We think it will be an excellant home for her and there is no doubt that the new mom is an animal lover.