Small Town Quilting Blues, Chapter 1

"Well, I'm just so excited, I can hardly stand it," Becky Sullivan said, snipping a thread. "Bob, God love him, has never been interested in taking a cruise. He finally bought that old car he's been talking about getting forever, and he and the boys are going to spend the week tinkering with it. All very manly kind of stuff while we ladies are basking in the Caribbean." Becky was working on a foal and mother medallion that would be the central image of the horse quilt she intended to have finished for the raffle that was part of the annual animal shelter fundraising dinner. Her readers—a plain brown pair this evening—matched one of the browns in the quilt fabric she was working on. That wouldn't have been a deliberate fashion choice by Becky, but Helen had noticed it.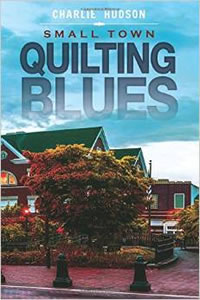 "Sunsets, tropical drinks with little umbrellas in them, and one would hope a handsome man or two," Phyllis Latchley added, her voice merry at the prospect.
"Hmm, it is a quilting-themed cruise," Sarah Guilford mused, her gold wire-rimmed glasses halfway down her strong nose. "I'm not sure how many men go for those types of cruises—no offense meant to Max," she added quickly even though he was the only member of the circle that wasn't at the meeting.
Phyllis arched her eyebrows, blue eyes twinkling as they always did when the subject of fun was raised. "Oh, I'm sure there will be some men along on a ship that size, and then there is the entire crew. They can't all be women or twenty-something males."
Rita Raney patted her rounded belly. "If it weren't for little Tyler here, I can promise that I would be taking time off to go. Steve gets seasick, so we won't be taking a cruise together at any point that I can see. Going with you ladies would be fun, and with quilting as the theme, I wouldn't feel like I was just running off on a separate vacation." Her husband, Steve, might be prone to seasickness, but he'd bought her a beautiful handcrafted rocking chair for the nursery and she was working on a lap quilt especially for it. She'd found a fabric printed with old-fashioned children's toys and was using a striped pattern with medium blue for the borders and as the alternate strips within the quilt.
"The same for me," Alicia Johnson said with a smile. "Not that Hiram gets seasick, but I want to finish all my major projects and get started on decorating the nursery. I think that Katarina is going to like her multiple shades of pink. I've kept it pastel and subdued rather than anything fluorescent." She held up the crib quilt that was almost finished to approving nods. Squares of different dolls in pink dresses alternated with squares of a slightly brighter pink rose fabric, which she'd selected for the border as well. It was definitely something for a little girl.
Each of the young women had chosen to know the sex of their baby beforehand, and they were due no more than a month apart. They hadn't reached the awkward stages of their pregnancies yet, but both of the youngest members of the circle had that glow the other women recognized. Rita's Italian ancestry showed in her faintly olive skin tone and deep brown eyes, while Alicia's black hair and green eyes of a Celtic heritage were counterpoint to her ivory complexion.
"Speaking of babies, I saw Tricia and Russell at Always Fresh Farms," Deirdre Carter said, placing a tiny stitch in one of the cardinal appliqués she was adding to a square. Her middle daughter was moving into a new house as soon as school was out, and she had always been a bird lover. The quilt would include all of the native Georgia woodland birds. "My word, he seems to have grown another inch at least since I saw them last week. He is cute as a bug, isn't he?"
"Well, of course, I think so," Helen laughed, the feeling of warmth for her grandson rushing through her as it did at the mere mention of his name.
Deirdre descended from one of the earliest families in Wallington, and at sixty-three, she was the oldest member of the circle even though she was one of the most recent to join. Helen had felt honored when Deirdre had asked her to coffee one afternoon to see about joining. She was the last of a circle that her great-grandmother had started, passed through her mother's generation. Those women, for reasons never made clear, had refused to bring in younger members of their circle unless they were family members, and Deirdre had been the only one of the younger generation who had taken to the craft. Circles in town who knew the situation had all extended invitations to Deirdre after her mother passed.
Helen said, "I think he's going through one of those growth spurts. You turn around and don't have a thing that fits."
"That's why I always give new mothers baby clothes for twelve-month-olds," Mary Lou Bell chimed in, lifting her blue eyes from her project. "I explain that in the card—that the outfit is for the day they can't squeeze into anything. It gives the mamma time to get to the store." She was working on a bed jacket for a former teacher who had recently relocated to The Arbors, an assisted living facility in the hospital complex. Collecting heart rocks had been one of the woman's hobbies, and Mary Lou had found a pale yellow fabric with hearts in more than two dozen shapes and sizes—no traditional red ones in the mix.
Helen nodded. "That is so smart. What does Waylon have planned while you're on the cruise?"
"Nothing special," Mary Lou said with a grin. "When he's not working, he'll be glued to the TV for basketball play-offs, baseball, or golf. I swear, I never thought we'd have a sixty-inch television set with whatever all those features are, but he's been in hog heaven since they installed it. He declares that it's the best birthday present that I ever gave him."
"Between humongous screens and 3D, and whatever else they can think of, I guess the home theater idea will be catching on again," Deirdre said, looking at Katie Nelson. "Is Scott getting a lot of requests for that with remodels?"
Katie was sitting in one of the chairs with an apron in a stand quilting frame. It was the final piece to coordinate with an oven mitt set and tea cozy that she was giving as a house warming present to some cousin or the other. The dark green fabric was festooned with colorful produce. In what seemed to be a pattern this evening, Helen wondered if Katie had noticed that the background was nearly the same color as her eyes. Unlike Alicia, Katie's hair was blonde in the honey tone range. "Some for sure, and thank goodness he already closed in and converted the old carport when he built the new garage, or otherwise, I imagine we'd be going through another addition. He settled for a fifty-two-inch screen television for his man cave, I guess the term is now. He's got that ratty old recliner that he refuses to give up and a couch that I swear is going to fall apart one of these days, but it is on the other side of the house and I don't take company in there."
"And speaking of additions," Carolyn Reynolds said, smiling at Katie. "Clarissa Grigsby was in yesterday, singing your praises to high heaven. Claims she hasn't cooked a meal in a month. Says she still eats out at lunch a lot, but absolutely loves walking in her house knowing she can have a great dinner ready in fifteen minutes no matter what time she gets home. There were two new women in the store yesterday who heard her; I wouldn't be surprised if they didn't come to see you. They both work and thought that Katie's Kitchen Helper sounded like a wonderful idea."
Carolyn had brought a table runner that she was stitching for the silver wedding anniversary of one of her longtime customers at her store, The Right Look: Ladies and Children's Apparel. She had gotten photographs from the wedding, found fabric that was the same shade as the bridesmaids' lavender dresses, and put in a center strip of quilted white tulips that had dominated the wedding bouquet. The binding was a shimmery silver tape that made for a lovely effect.
"Clarissa is definitely great at spreading the word for me, and yes, Maggie, one of the women you're talking about, did come in today," Katie said. "She took a menu and said she would be back soon."
Katie's Kitchen Helper had been a hit in town from the day it opened. Scott had remodeled the old Farley house for his wife, turning it into a take-out business that included delivery for a fairly small radius but she was hoping to expand. She prepared whole meals for busy families with special menus for seniors as well as dieters who had difficulty in managing portion control. Her business tagline, "Stress less, cook less, and eat well," resounded with women who were constantly trying to juggle work and family and those older people who no longer desired to cook, but who did want an option other than frozen meals or dining out. The discussion about Katie's decision for her mid-life career change had taken place right in Helen's kitchen one night after circle, and now it was at least an initial success. What the year would bring had yet to be seen, but Katie had a solid business plan. She'd worked at one of the local banks for years before deciding to launch onto the entrepreneurial path.
Phyllis drew her needle through the azure blue fabric of the lightweight jacket she was finishing to take on the cruise. Parrots and palm fronds against a blue background was the perfect motif. She tied off a stitch, her posture indicating that she was done for the evening. "I know those of you who can't come on the cruise have good reasons, but we will miss y'all."
"We expect photos and a full report," Sarah said, moving the squares she'd completed into her tote. She was making a quilt using alternating triangles of beige, russet, and taupe for one of her sisters who was redecorating her den. "Shipboard romances included if there should be such a thing to tell." Her smile to Phyllis was affectionate, followed by a quick glance at Helen. Helen sensed the unasked question about her and Max, but didn't bite.
"Is Laura Baker really going to be there?" Alicia's query thankfully drew the group's attention to her.
Although it was certainly no secret that she and Max Mayfield were spending time together, Helen wasn't ready to make them a topic of conversation, and by tacit agreement, everyone in the circle was waiting for either Helen or Max to explain their relationship. The simple truth was that neither one could because they didn't quite know what it was themselves.
"She is indeed," Phyllis said enthusiastically. "Two days anyway, then she has to fly back for the start of her new book tour. I saw her when we attended the Lancaster Quilt Show, and I can't wait to be in this kind of forum with her."
Her wide mouth spreading into a characteristic smile, Deirdre slipped her needle into the new leather case that her sister had given her as a birthday present. "I have all of her books. I love the way she weaves in family and personal stories with her designs and instructions. It's almost like you were sitting right with her." Deirdre had a rich history of close family with six siblings, all of whom had children and grandchildren. Tiny crow's feet around her coffee-bean colored eyes were nearly the only wrinkles in her dark skin, and most people who met her didn't guess that she was actually the oldest member of the circle.
Alicia looked slightly skeptical. "Is it true that she started quilting when she was in the first grade?"
Helen nodded, satisfied with her progress on the red rose nosegay square. One of the women in the church needed an extra pair of hands for a quilt she was trying to complete as a wedding present, and Helen had volunteered to help. It was a lovely I DID PROMISE YOU A ROSE GARDEN design. "Oh, yes. Her mother's side of the family has traced their ancestry to one of the Jamestown settlers. They have a few quilts that date back to well before the Revolution. Talk about quilting flowing in their veins!"
"And from what I understand, despite arguably having one of the finest pedigrees in the American quilting world, if you want to use that term, she isn't the slightest bit snooty about it," Phyllis said, looking comically puzzled that her wineglass was empty. "Hmm, I must have poured that one too lightly."
Sarah laughed and pushed her glasses up on her nose. "That would be the day. Seriously though, it is about time for me to be getting home. Don't forget that we'll meet at my house next week for circle. I know it will seem odd with four of us gone, but we'll have a good time."
There were murmurs as the women exchanged comments, began to fold projects, and filled their totes. Phyllis and Katie looked as if they were going to linger. The rhythm for circle was well-established, not through some silly set of rules, but from learning what worked best for the group. They arrived at Helen's at six o'clock, bringing in bite-size food in a mix of savory and sweet. Next came settling into the large room that Helen had transformed into an ideal quilting room; it offered plenty of space for everyone to be comfortable. Unless they had a group project, they arrayed themselves, depending on the individual's preference or type of project brought for the evening, at the custom-built quilting table, on the couch, or in one of the chairs set in an arc. An hour or so later, there was a twenty-minute break for everyone to stretch and get munchies and beverages. They closed up around eight thirty-ish, although more beverages were available for those who wanted to stay and visit. Plenty of conversation flowed prior to that, the sort of candid discussions and swapping of gossip that was to be expected from women who had known each other for many years. Even Rita and Alicia, the two youngest by at least a decade and still fairly new to the circle, shared in the sense of sisterhood that lent itself like the fragrance of a favorite perfume.
"Oh good, your shrimp spread wasn't completely devoured," Phyllis said, as by habit, the women carried the leftovers to the oval pine kitchen table.
Katie was at the counter next to the coffeepot and mugs. "I've waited all evening for one of Lisa's chocolate and pecan bars."
Helen poured another glass of water and squeezed a lemon slice in. "Do you do much in the way of desserts at your shop?" she asked Katie.
Katie slid into the chair to Helen's left. "Not really. I don't have the kind of talent that Lisa does and her bakery is so popular that anyone looking specifically for dessert goes there first. What most people are looking for from me are meals that can get them through the week." She stirred cream into her coffee, holding the cookie from Forsythe Bakery over a napkin. "I don't think people do dessert after a meal regularly these days." She took a bite of the treat, the usual look of pleasure on her face at tasting one of Lisa's creations.
"I have to agree," Phyllis said, pulling the shrimp spread close to her, cracker at the ready. This was one of Helen's frequent dishes—incredibly simple to prepare and she'd developed the balance of flavor over years of experimenting with proportions of a Cajun seasoning and lemon juice that she mixed with the cream cheese and minced shrimp. "I think people keep sweets in the house and might serve them for company, but they often save them for a mid-afternoon or late-night snack rather than right after a meal."
"From what I've heard about food on board the cruise, we'll have all the late-night snacking opportunities that we could want," Helen said.
"And then some," Phyllis said with a grin, lifting her glass. "Oh, you mean food."
Katie laughed. "You are such a pill. I really do wish I could be going with y'all, but I'm just not in a position to leave the shop yet. I'll catch the next one."
Helen nodded. "If this is as much fun as I think it will be, this could be a regular event for us. I mean, of course I'd heard of quilting-themed cruises and Wanda has already told the cruise line that she'll stay on their roster as a substitute."
Katie raised her cup in a toasting gesture. "Well, here's to what I know will be a wonderful time."
The three women touched glasses to mug, Helen smiling with thoughts of how many nights they'd sat in this same way, sharing whatever good or bad news was important at the moment. The heartbreak of a divorce, the joy of discovering that there were second chances at love, the frustrations of adult children who were poised to make poor decisions, the pall of a disease that took a relative or friend, the ups and downs of everyday life—all of these subjects and more had ebbed and flowed through this kitchen.
Tonight was light-hearted, though, even when Phyllis took one more cracker with shrimp spread and raised her eyebrows to Helen. "It's too bad Max can't come with us on this one. Y'all do know we're all dying to find out what's going on."
Katie kept a straight face, although she couldn't quite hide the question in her eyes as well.
"Not ready for prime time," Helen said with a gentle smile. "There's no rush, and I've been devoting a lot of time to Russell."
Katie shot a look at Phyllis and held her hand up in a Stop gesture. "And that's just fine," she said warmly. "Neither one of you need to be in a hurry about anything." She turned to the sound of click-click on the slate-look porcelain tiled floor. "Why, hello, sleepyhead."
Tawny, Helen's chug, meandered into the kitchen from the adjoining den, stopping by Katie's outstretched hand for a head scratch. Katie pushed her chair back from the table and scooped the small dog up, its little pink tongue lapping away at her chin in greeting. Even though Tawny was affectionate to all of Helen's friends, Katie had a special fondness for the mixed Chihuahua and pug. "I'll be happy to take care of her while you're gone," she said and let Tawny hop down to make her way to Helen.
"Thanks, but Tricia is going to take her to their place," Helen said as Tawny stretched with her paws on the edge of the chair. "Having access to Tawny saves them from having to get a dog yet. That will no doubt come after they have the new house."
Phyllis poured a fresh glass of wine. "Having your dream house built—that's always a fun and safe topic," she said with a wink. "Or is this more the in-between house?"
"Probably in-between," Helen said with a laugh. "I think that ultimately they're looking to have three or four acres. Tricia has made noises about getting a horse someday, but now is not the time to be making a move like that."
"Well, with the plan they've picked out and the neighborhood, it will be really easy to sell if they decide to later," Katie said. With her husband, Scott, as one of the primary builders in town, Katie knew all the areas as well as, if not better, than most of the Realtors.
"They are having a good time with it," Helen said, sending Tawny over to give a doggy greeting to Phyllis who had cheerfully taken the signal to change the subject from Max. Helen didn't mind her probing, and they had been friends long enough to realize that Helen would share her feelings when she was ready. But that was definitely not going to be tonight.