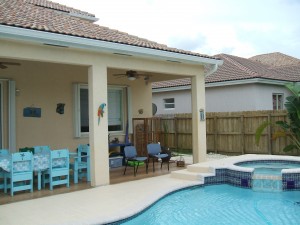 One of the points about living in South Florida is that you expect to have visitors in the winter time. However, despite the fact that we mostly have beautiful warm winter weather, that is average – not every single day. We get brief cold snaps and sometime overcast rainy days, and then there is the wind. None of these last long, but if a visit is only a day or two in length, it does cause a change of plans.
Family is headed our way tomorrow and our intent of snorkeling is looking a bit dicey. The temperature is fine and plenty of sunshine, but with the wind blowing up to 30 knots, that really doesn't bode well for being out on the reef. There is a chance for the winds to come down, but we have alternative plans in-pocket just in case.
Since only in-water activities are affected, we can still take advantage of several outdoor things. I'm not certain that we'll take a day trip to Key West, but down to Islamorada for lunch at Zane Gray's is always fun. If we don't launch too late, we can swing into the History of Diving Museum with their wonderful displays. (I'll highlight the museum in another post.) I'll check to see how our visitors feel about wild birds because the Wild Bird Center on the far end of Key Largo is another choice. I don't know if they have ever seen a Wyland wall, but that's another definite stop, although it's actually a Wyland building. When the artist Wyland purchased a home in the Keys, he selected a building in Key Largo that did need to have the mural re-painted. An entire building by Wyland was certainly a bit more than most people expected and it's a great photo opportunity.
Heading west to Everglades City is another favorite of ours or we might stay closer and pop out to the Everglades National Park to stroll the trail where we'll probably see alligators and lots of birds. If the company was a bit younger, we would suggest the zoo which is a really nice zoo, but not everyone is into it. South Beach is of course an option that we save for company. The Art Deco area is fun if you haven't seen it and we've learned to mostly time the in and out to avoid the worst traffic.
While I really was looking forward to getting back into the water (it's been almost two months for me), we may have to do topside activities instead. Fortunately, the hot tub is not affected by wind, so an afternoon sitting in the hot tub sipping favorite beverages watching the colors fade to sunset is in no danger.